The lab's newest preprint was posted on bioRxiv. Xiaonan demonstrates how ceRNAs residing on the commonly amplified chromosome 1q arm distort a regulatory RNA network to promote melanoma metastasis. Great work, Xiaonan!
Paper accepted in The American Journal for Human Genetics! Led by former postdoc Koji Nakamura and Brett Reid in Moffitt's Epidemiology Department, this collaborative effort functionalizes the 1p34 risk locus and is our first foray into ovarian cancer.
Ella's paper characterizing a new panel of murine melanoma cell lines was accepted by JID Innovations. Congratulations, Ella!
The lab virtually attends the annual Society for Melanoma Research congress. The lab is very well represented: Xiaonan and Neel give oral presentations, and Olga, Ella, Kai, and Nicol present their work on posters. Olga also received a travel award from the SMR. Congratulations to all!
Sabrina Chowdhury, a USF Master student in Medical Sciences, joins the lab as a volunteer. Welcome Sabrina!
We received official word today that our proposal on studying sMAF proteins in melanoma will be supported for the next 4 years by the American Cancer Society through a Research Scholar Grant. 
Florian participates as a panelist to discuss the state of basic research in ocular melanoma as part of the CureOM annual workshop preceding the SMR congress.
Nicole Wang, a USF Master student in Medical Sciences, joins the lab as a volunteer. Welcome Nicole!
Ben Posorske joins the Karreth lab as a Research Associate II. Welcome, Ben!
Nick Spinosa, PhD student in the Cancer Biology Program, joins the lab for his first 10-week rotation. Welcome to the lab, Nick!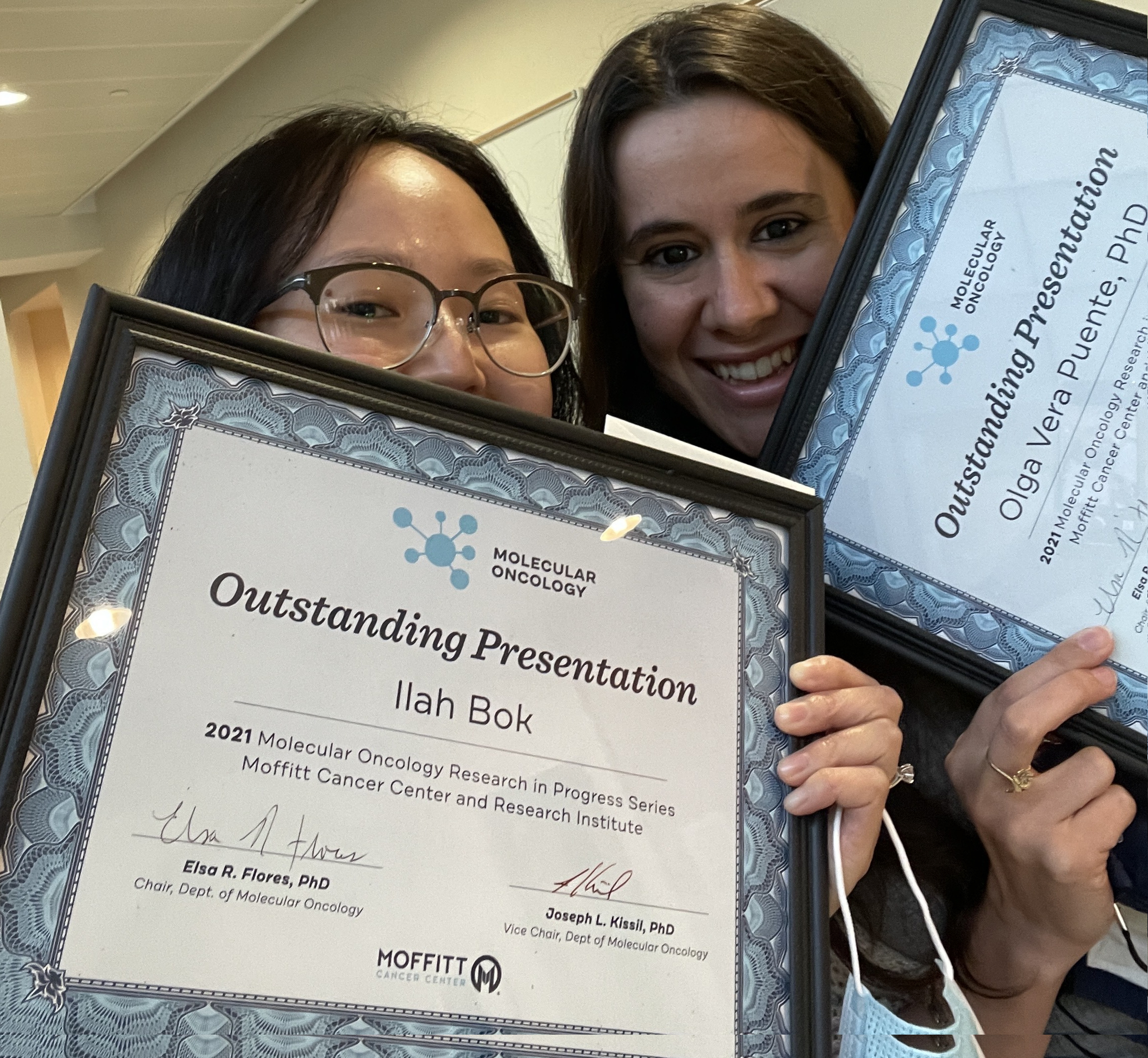 Olga (2nd place) and Ella (3rd place) were awarded Outstanding Presentation Awards for their talks at the Molecular Oncology Department Research in Progress seminar series. Congrats and very well done!
We received our Notice of Award for a R21 grant from the NCI. This grant will support Kaizhen's project focusing on characterizing the miR-29/MYBL2 axis in melanoma.
Nicol's review article titled "Squaring the circle: circRNAs in melanoma" was published in Oncogene. Well done, Nicol!
Three book chapters on pseudogenes published in Methods in Molecular Biology. We discuss how to predict and analyze pseudogenes as ceRNAs, how to determine miRNA dependency of pseudogene ceRNAs, and mouse modeling strategies to study pseudogenes in vivo. Congrats to Ella and Xiaonan who led two of these chapters.
We received our Notice of Award for a Bankhead Coley grant from the Florida Department of Health. Over the next three years, we will study the non-canonical functions of the tumor suppressor PTEN in melanoma.
Our latest preprint was uploaded to bioRxiv. Led by Master student Nicol Mecozzi, we have developed and validated novel genetic tools for the stable overexpression of circRNAs in vitro and in vivo.
We received the Notice of Award for our first R01 grant from the NCI. For the next five years, we will investigate how competitive endogenous RNAs, especially those located on chromosome 1q, promote melanoma metastasis.
Paper published in JAMA Dermatology. A fruitful collaboration with multiple Moffitteers (K. Smalley, J, Teer, A, Chen, J. Koomen, J, Messina) identified frequent BRAF-V600E mutations in acral nevi, indicating that these lesions are not the precursors for acral melanoma where BRAF-V600E mutations are very rare.
Olga's paper on the regulation of the tumor suppressive miR-29 family in melanoma was accepted in Cancers. This study also identified interesting targets of miR-29 whose role in melanoma the lab will further characterize. Congratulations, Olga!
Nicol was offered a spot in the Moffitt Cancer Biology PhD program and she accepted. Congrats, Nicol. We are excited that you will stay at Moffitt for your PhD training.
Neel won the best poster award at the University of South Florida Health Research Day. Way to go, Neel!
Ella was awarded a 2020 Outstanding Accomplishment Award from the Moffitt Cancer Biology PhD program. Congratulations, Ella - well deserved!
Florian co-authored a perspective on the future of animal models in melanoma research in Cancer Cell. This joint effort is the result of a workshop on melanoma models organized by our colleagues Drs. Liz Patton and Glenn Merlino and the Melanoma Research Alliance.