Another first for the Karreth lab: Olga was selected to give an oral presentation on her work on miR-29 at the AACR Melanoma conference in January 2019 in Houston. This is the first trainee talk at an international conference. Olga also won a Scholar-in-Training Award from the AACR to attend this conference. Well done, Olga!
Koji won a Research Fellowship award from the Uehara Memorial Foundation for his work on lncRNAs in ovarian cancer. Congratulations, Koji! This marks the first trainee award that the Karreth lab has received. 
The Karreth lab welcomes two newcomers: Xiaonan Xu joins the lab as a postdoctoral fellow and Jessica Mandula does her second rotation in the Karreth lab as part of her first year in the Cancer Biology PhD program. We are running out of lab space....
The Karreth lab was awarded a Mucosal Melanoma Career Development Award from the Melanoma Research Foundation. This grant will support the development of a mucosal melanoma mouse model driven by cKIT.
Koji presented his work on the effect of ovarian cancer risk-associated SNPs in lncRNA promoters on tumorigenesis at the Molecular Oncology Department Research in Progress seminar series. Great job, Koji.
Olga Vera Puente joined the Karreth lab as a postdoctoral fellow. Olga has extensive expertise in epigenetic control of ncRNA expression and will focus her postdoc work on circular RNAs.
Today is Anu's last day in the lab. She will take a short break and then start a new position as a Research Associate in the lab of Elsa Flores here at Moffitt. Good luck and keep it up, Anu. 
The Karreth Lab participated in the 2nd annual Cancer Biology & Evolution Program Symposium at Moffitt. Ella and Koji presented posters and Florian gave a talk on melanoma ESC-GEMMs. 
Jordan Reff has joined the lab as Research Assistant II. Jordan brings much-needed experience with animals to the lab. Meanwhile, Keenan has left the lab to pursue his graduate studies in neurobiology at the University of Colorado Denver. Farewell Keenan and welcome Jordan! 
Florian traveled to Madrid to give a lecture on melanoma ESC-GEMMs at the CNIO, the premier cancer research institute in Spain. Florian also served as the external examiner at Olga Vera Puente's PhD thesis defense at La Paz University. Olga passed with cum laude honors and will join the Karreth lab as a postdoc in the summer. Congratulations, Olga!
Florian was awarded a Miles for Moffitt grant. This one year award will fund our work on the lipid phosphatase-independent functions of PTEN in melanoma.
Congratulations to our two newest graduates, Keenan and Anu! Keenan defended his Honors Thesis on non-coding functions of amplified genes to obtain a Bachelor degree in Biology from Rollins College. Anu defended her Master's Thesis on the role of miR-29 in melanoma to fulfill the requirements of the USF Biotechnology Master's Program. Well done, Keenan and Anu!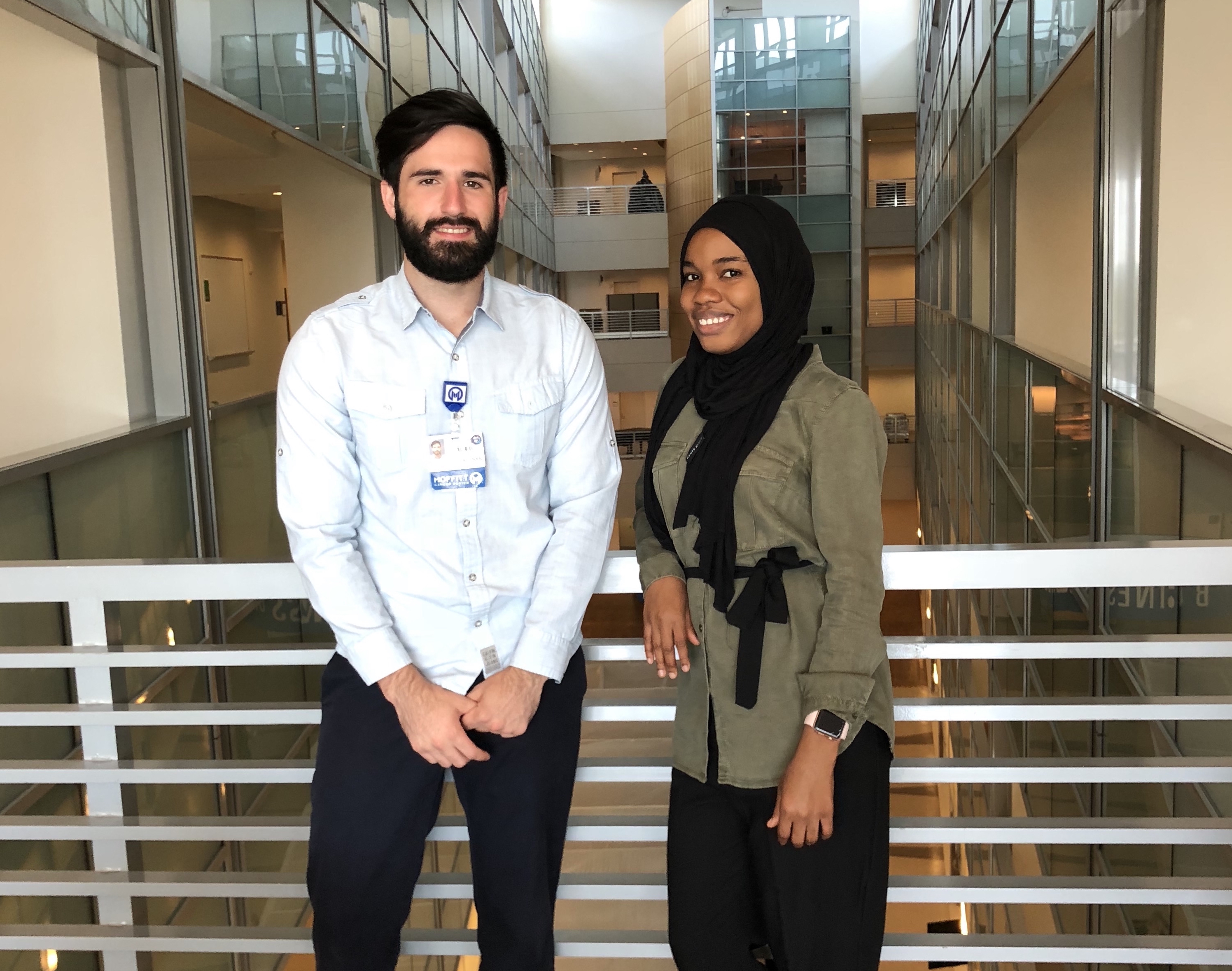 The @KarrethLab is now on Twitter. Follow us! Updates from the Lab and science news from around the globe
Ella presented her work on establishing our melanoma ESC-GEMM platform at the Molecular Oncology Department Research in Progress Seminar series. Well done, Ella.
Florian is part of a team of Moffitt investigators that was awarded a Melanoma Research Alliance Team Science Award. The team is led by Keiran Smalley and also includes Ann Chen, Jane Messina, John Koomen, and Jamie Teer. The project will characterize driver mutations in acral melanoma using human specimen and mouse models.
Florian was awarded an Innovation grant from Moffitt's Cancer Biology & Evolution program to analyze the changes in the circular RNA expression profile during melanoma progression.
The Karreth lab attends the annual retreat of the Department of Molecular Oncology. Ella and Keenan present posters about their work on the melanoma ESC-GEMM and gene amplifications in melanoma, respectively. Ella and Keenan also present poster teasers in 90 second "mini-talks".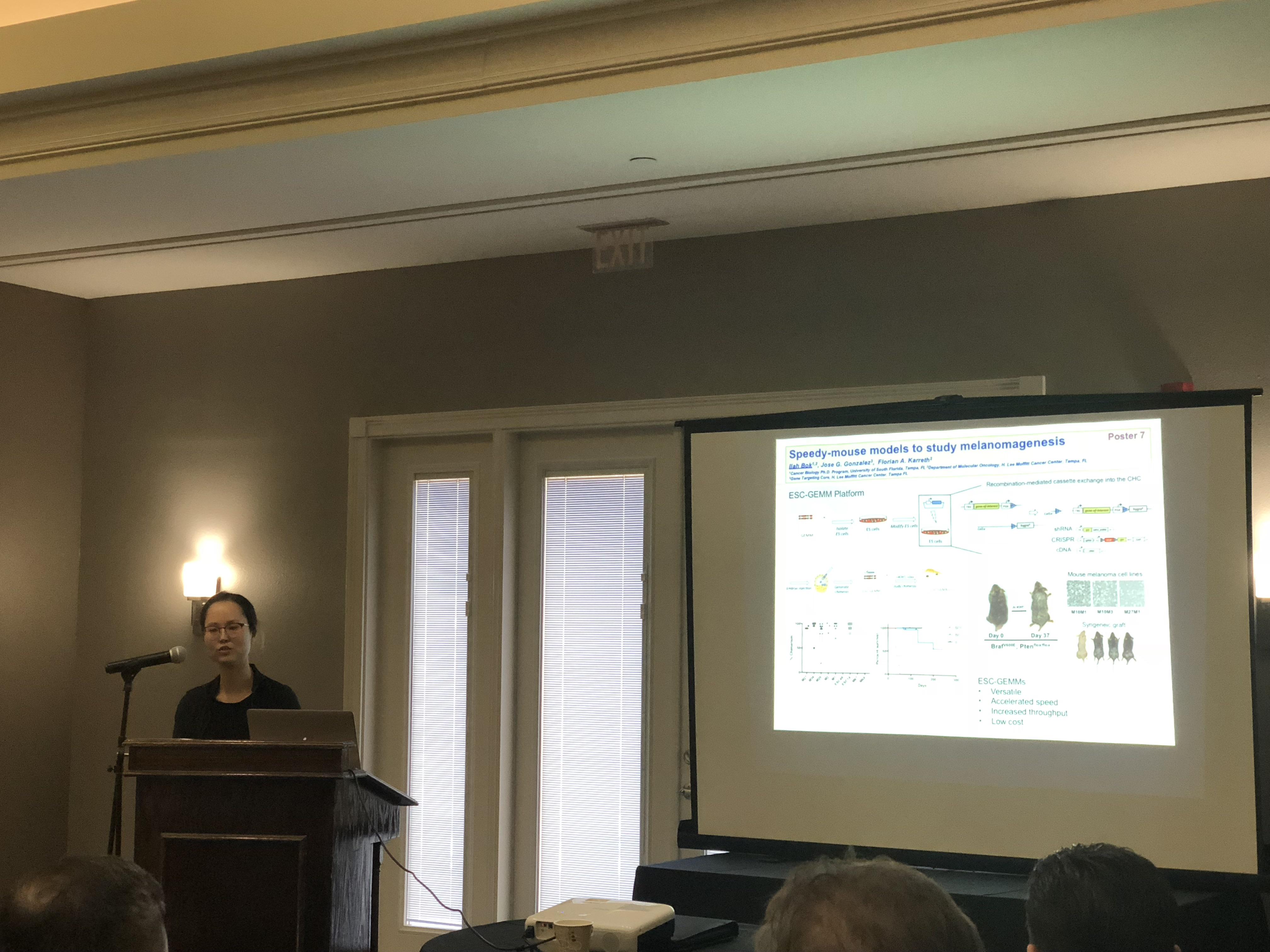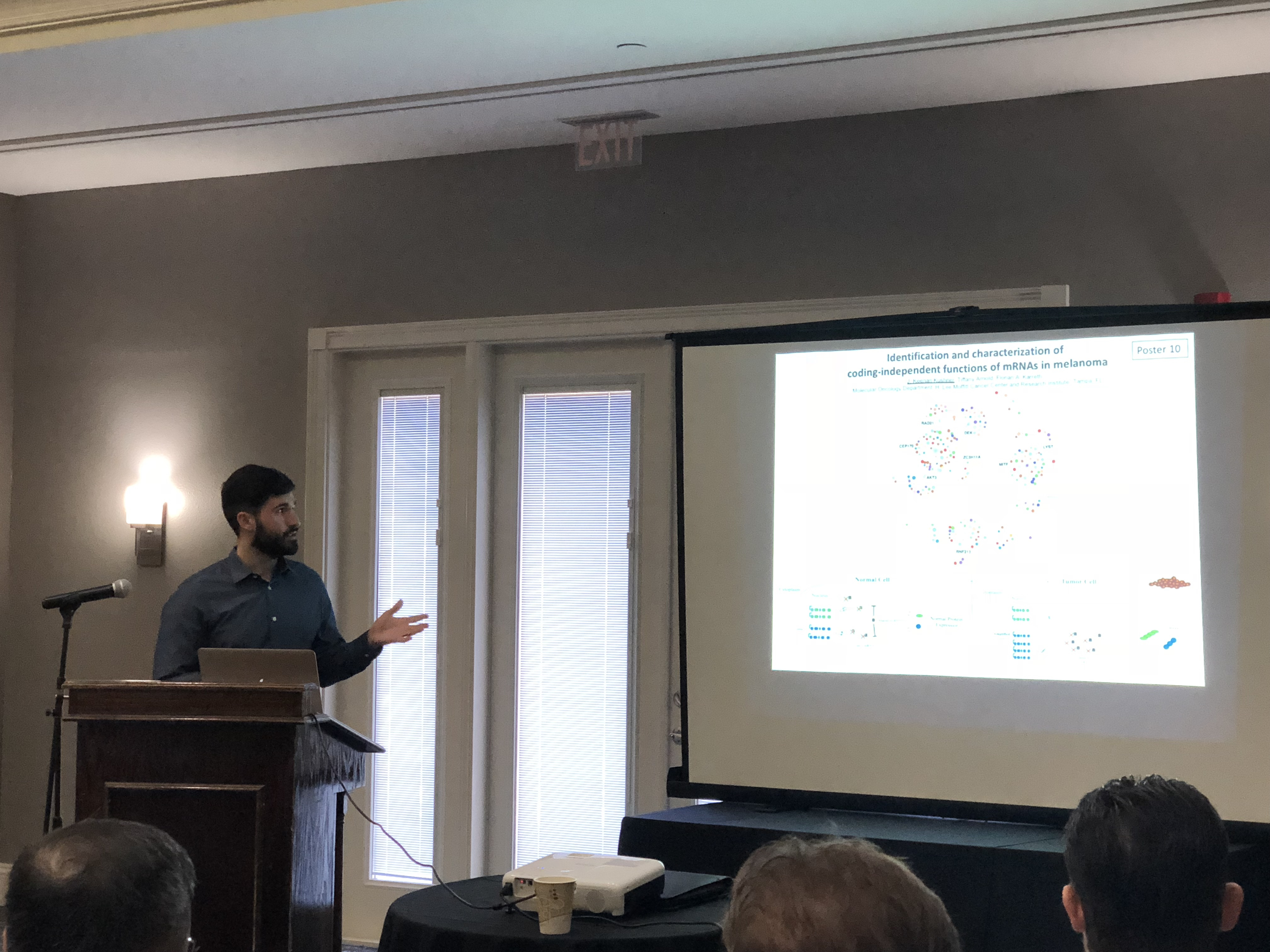 The Karreth lab has gained another terrific member. Neel Jasani joined the lab as a PhD student and will focus his thesis work on tumor suppressors involved in melanoma progression. Welcome Neel!
Oluwashanu (Anu) Balogun has joined the lab for her Master's thesis as part of the University of South Florida Biotechnology program. Welcome to the lab, Anu!
The start of another exciting year for the Karreth lab. We will continue our passionate work to find a cure for melanoma with a great group of people and in a fantastic and stimulating environment here at the Moffitt Cancer Center. We said farewell to a few lab members is in 2017: Nicole Vincelette continues her postdoc studies in Alan List's lab, after completing her Master's thesis Tiffany Arnold now works as a research associate in Karen Mann's lab, and Sara Tran joined the dark side aka pharmaceutical industry.