Robert J. Gillies, PhD.
Robert J. Gillies and his lab are focused on understanding cancers as complex, heterogeneous and dynamic systems. Along with his long-time collaborator, Robert A. Gatenby, they share a core belief that, due to genomic plasticity and microenvironmental heterogeneity, cancers can only be understood through the lens of Darwinian Evolution. Dr. Gillies is an experimentalist whose work spans molecular, cellular, animal models, and image analytics. He is the Martin Silberger Chair of Cancer Physiology, Director of the Center of Excellence in Cancer Imaging and Technology, and Scientific Director of the Small Animal Imaging Lab, SAIL. 
---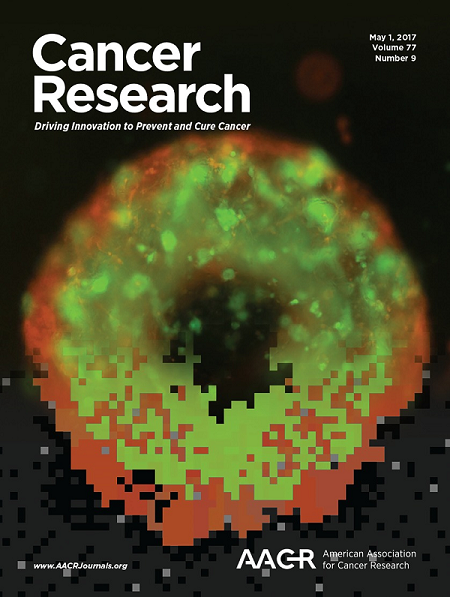 May 2017, Cancer Research cover, from Arig Ibrahim-Hashim, Robert J. Gillies et al. "Defining Cancer Subpopulations by Adaptive Strategies Rather Than Molecular Properties Provides Novel Insights into Intratumoral Evolution" 
---
Gillies Lab at the Moffitt PSOC Site Visit
---
Publication Highlights:
Heterogeneity analysis of MRI T2 maps for measurement of early tumor response to radiotherapy
Dr. Robert Gillies
December 15, 2020 (From Moffitt MRI Signals published January 6, 2021)
Published in NMR in Biomedicine.
External beam radiotherapy (XRT) is a widely used cancer treatment, yet responses vary dramatically among patients. These differences are not accounted for in clinical practice, partly due to a lack of sensitive early response biomarkers. In this study, investigators hypothesized that quantitative magnetic resonance imaging (MRI) measures reflecting tumor heterogeneity can provide a sensitive and robust biomarker of early XRT response.
The study's preclinical findings indicate that spatial heterogeneity analysis of T2 MRI can provide a translatable method for early radiotherapy response assessment. We propose that the method may in future be applied for personalization of radiotherapy through adaptive treatment paradigms.
Non-invasive decision support for NSCLC treatment using PET/CT radiomics
Dr. Wei Mu
October 16, 2020 (From Moffitt MRI Signals published October 21, 2020)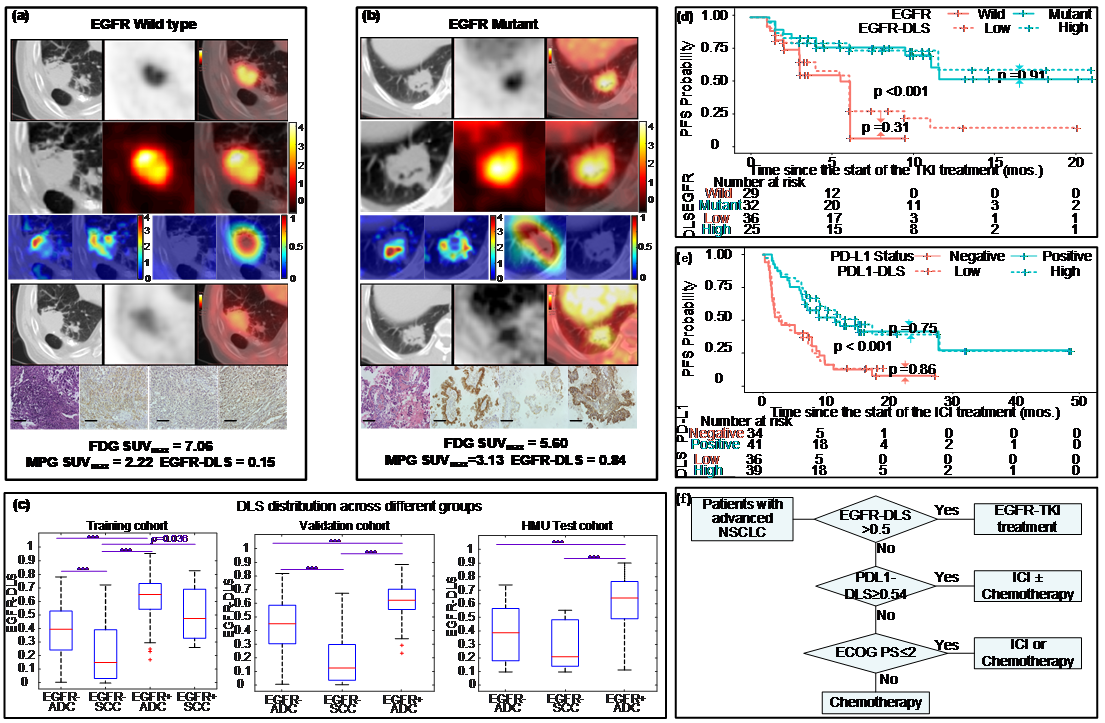 EGFR, or epidermal growth factor receptor, is a common mutation found in non-small cell lung cancer patients, and can be a predictor for treatment. However, the current biopsy-based detection techniques are invasive, and may fail to yield actionable results due to insufficient quantity or quality of the tissue. In this work, we developed a deep learning model to predict EGFR mutation using 18F-FDG PET/CT images since it is widely used and the glucose radiotracer used could be affected by EGFR activation and inflammation. Further, we found that the EGFR deep learning score was positively associated with longer progression free survival in patients treated with tyrosine kinase inhibitors (TKI), and negatively associated with durable clinical benefit and longer progression free survival in patients being treated with immune checkpoint inhibitor (ICI). Therefore, together with our previously developed PD-L1 deep learning prediction model using PET/CT images, we developed a non-invasive treatment decision support to make treatment plan.
Radiomics of (18)F-FDG PET/CT images predicts clinical benefit of advanced NSCLC patients to checkpoint blockade immunotherapy
Dr. Wei Mu
December 5, 2019 (From Moffitt MRI Signals published January 8, 2020)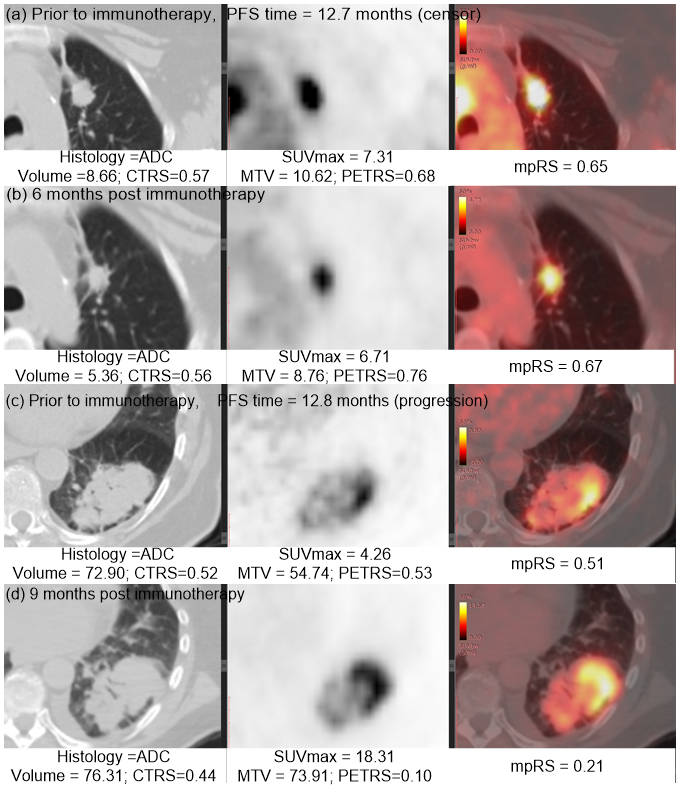 Immunotherapy has improved outcomes for patients with non-small cell lung cancer (NSCLC), yet durable clinical benefit (DCB) is experienced in only a fraction of patients.  Therefore, we developed an effective and stable radiomics signature by the combination of PET, CT and the fusion Kullback–Leibler Divergence features, which may serve as a predictive biomarker for immunotherapy response. This signature could be used prior to initiation of immunotherapy to identify NSCLC patients most likely to benefit from immunotherapy, and could also be leveraged to improve the non-invasive treatment decision support in the treatment of advanced NSCLC patients.
Systems analysis of intracellular pH vulnerabilities for cancer therapy
Drs. Damaghi, Gillies, Cleveland & Colleagues
July 31, 2018 (From Moffitt MRI Signals published August 15, 2018)
Research Scientist, Mehdi Damaghi, in Gillies lab was co-lead author a paper recently published in Nature Communications that utilized a systems analysis of intracellular pH vulnerabilities for cancer therapy.  The team, which included Dr. Bob Gillies, and John Cleveland, developed a computational methodology that explores how intracellular pH (pHi) can modulate metabolism. Experimental testing of the novel strategy revealed that it is particularly effective against aggressive phenotypes. The study suggests essential roles of pHi in cancer metabolism and provides a conceptual and computational framework for exploring pHi roles in other biomedical domains. Moffitt's Molecular Genomics and Analytical Microscopy cores were also utilized.
Eco-evolutionary Causes and Consequences of Temporal Changes in Intramural Blood Flow
Drs. Gillies, Brown, Anderson, and Gatenby
June 11, 2018 (From Moffitt MRI Signals published July 18, 2018)
Published in Nature Reviews Cancer.
Their opinion posits that temporal changes in blood flow are commonly observed in malignant tumors, but the evolutionary causes and consequences are rarely considered. The authors propose that stochastic temporal variations in blood flow and microenvironmental conditions arise from the eco-evolutionary dynamics of tumor angiogenesis in which cancer cells, as individual units of selection, can influence and respond only to local environmental conditions.
Temporal variations in intratumoural blood flow, which occur through the promotion of cancer cell phenotypes that facilitate both metastatic spread and resistance to therapy, may have substantial clinical consequences.