Robert J. Gillies, PhD.
Robert J. Gillies and his lab are focused on understanding cancers as complex, heterogeneous and dynamic systems. Along with his long-time collaborator, Robert A. Gatenby, they share a core belief that, due to genomic plasticity and microenvironmental heterogeneity, cancers can only be understood through the lens of Darwinian Evolution. Dr. Gillies is an experimentalist whose work spans molecular, cellular, animal models, and image analytics. He is the Martin Silberger Chair of Cancer Physiology, Director of the Center of Excellence in Cancer Imaging and Technology, and Scientific Director of the Small Animal Imaging Lab, SAIL. 
---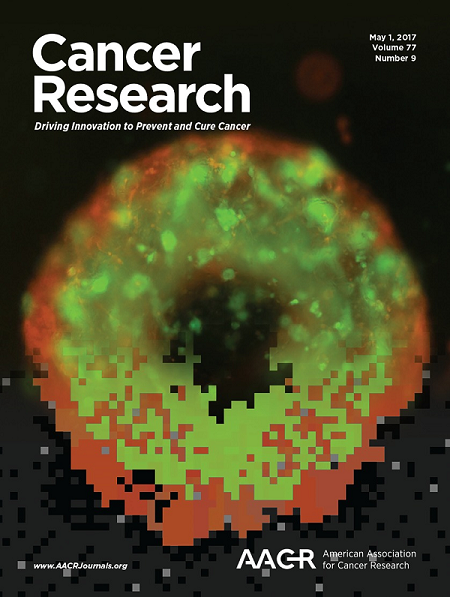 May 2017, Cancer Research cover, from Arig Ibrahim-Hashim, Robert J. Gillies et al. "Defining Cancer Subpopulations by Adaptive Strategies Rather Than Molecular Properties Provides Novel Insights into Intratumoral Evolution" 
---
Gillies Lab at the Moffitt PSOC Site Visit
---
Publication Highlights:
(From Moffitt MRI Signals published August 15, 2018)
Drs. Damaghi, Gillies, Cleveland & Colleagues
Research Scientist, Mehdi Damaghi, in Gillies lab was co-lead author a paper recently published inNature Communications that utilized a systems analysis of intracellular pH vulnerabilities for cancer therapy.  The team, which included Dr. Bob Gillies, and John Cleveland, developed a computational methodology that explores how intracellular pH (pHi) can modulate metabolism. Experimental testing of the novel strategy revealed that it is particularly effective against aggressive phenotypes. The study suggests essential roles of pHi in cancer metabolism and provides a conceptual and computational framework for exploring pHi roles in other biomedical domains. Moffitt's Molecular Genomics and Analytical Microscopy cores were also utilized.
(From Moffitt MRI Signals published July 18, 2018)
Eco-evolutionary Causes and Consequences of Temporal Changes in Intramural Blood Flow
Moffitt researchers Drs. Robert Gillies, Joel Brown, Sandy Anderson, and Robert Gatenby have published in Nature Reviews Cancer. 
Their opinion posits that temporal changes in blood flow are commonly observed in malignant tumours, but the evolutionary causes and consequences are rarely considered. The authors propose that stochastic temporal variations in blood flow and microenvironmental conditions arise from the eco-evolutionary dynamics of tumour angiogenesis in which cancer cells, as individual units of selection, can influence and respond only to local environmental conditions. 
Temporal variations in intratumoural blood flow, which occur through the promotion of cancer cell phenotypes that facilitate both metastatic spread and resistance to therapy, may have substantial clinical consequences.