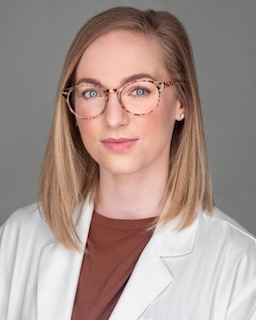 Courtesy of Nicholas Gould, Moffitt Cancer Center, 2021.
Amanda L. Meshey, B.S.
Graduate Student in the Moffitt-USF Cancer Biology Ph.D. Program
Department of Molecular Oncology
Moffitt Cancer Center
Research interests: Skin cancer, genetic diseases, cancer therapeutics.
EDUCATION
The Pennsylvania State University, B.S., 2016, Biology - Genetics and Developmental Biology
RESEARCH INTERESTS
Heterogeneity in skin cancers has proven to be a big hurdle in the clinic, as it has resulted in less effective treatment and progression into resistance. As a geneticist and evolutionary biologist my interests reside in gaining insight into the evolution of clonal population dynamics when exposed to purifying selection events. Being in Dr. Mann's lab has allowed me access to cutting edge Sleeping Beauty transposon mutagenesis models and bioinformatics tools to help better understand disease development and how we can take steps toward a more effective treatment of disease.