Educational Events
Cancer is the second leading cause of death in Puerto Rico, according to the Puerto Rico Health Department. Our free educational events help educate the Puerto Rican community in Ponce and adjacent municipalities about the importance of cancer prevention, early detection, treatment programs and cancer research in the fight against cancer.
Please click 
here
 if you would like to be notified of upcoming events in Ponce
. 
UPCOMING EVENTS
The Bridge, Friday, August 11, 2017
---
ALL EVENTS


The Hablemos de cáncer Educational Symposium provides cancer education and resources to the Puerto Rican community. Moffitt and Ponce physicians and healthcare professionals discuss cancer prevention, screening, early detection, and health disparities with the community. This event is held in Ponce every other year; it is free of cost and open to the community.
Previous event:
March 4, 2017 at the Pontifical Catholic University
August 24, 2013 at the Ponce Salvation Army
Back to top
---
Community Engagement Forums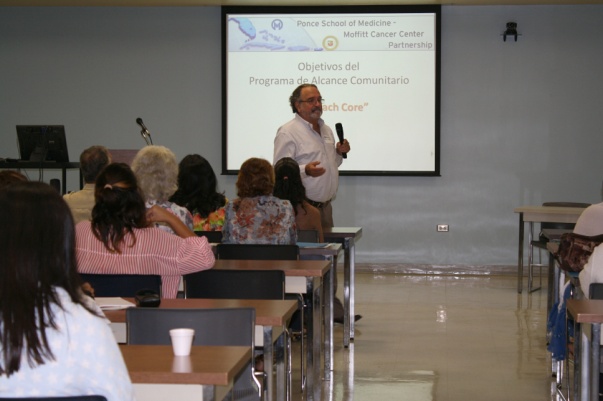 Community Engagement Forums provide community members a way to discuss and identify cancer control and prevention educational needs. These forums also serve as a way for community leaders to network and identify potential partnerships. Additionally, discussion groups are held to obtain more information about culturally appropriate ways to deliver cancer educational material to the Puerto Rican public.
Previous forums: 
May 3, 2013 

Ponce Health Sciences University
March 28, 2014 

Ponce Health Sciences University
El Puente brings cancer investigators and community leaders together to improve understanding of cancer research and community participation. Researchers explain how their findings are relevant to the prevention of cancer and the improvement of patient health outcomes. Community leaders can express their expectations and concerns about the research process. This information exchange gives researchers the opportunity to gain knowledge about outreach and community engagement strategies, and educates community members how and why research is important.
Previous forums: 
April 26, 2013 at Ponce Health Sciences UniversityJune 6, 2014 at Ponce Health Sciences UniversitySeptember 11, 2015  at Ponce Health Sciences University June 10, 2016 at Ponce Health Sciences UniversityBack to top

---
Community Health Fairs

Community Health Fairs are a great opportunity to provide health education. These activities are common within communities and are usually organized by health services or provider organizations, such as the American Cancer Society, universities, and community-based organizations. Our team will identify community-sponsored health fairs within Ponce and adjacent municipalities and participate by providing cancer health educational materials and answering questions.

To request our participation in a local health fair or other event, please contact PSM-MCC.Partnership@psm.edu.

Back to top