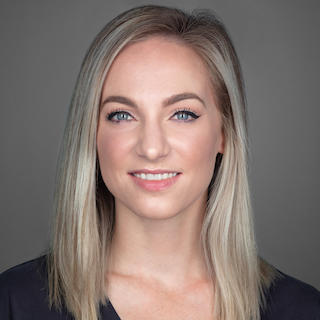 Courtesy of Nicholas Gould, Moffitt Cancer Center, 2019.
Amanda L. Meshey, B.S.
Research Associate II
Department of Molecular Oncology
Moffitt Cancer Center
Research interests: Skin cancer, genetic diseases, cancer therapeutics.
EDUCATION
The Pennsylvania State University, B.S., 2016, Biology - Genetics and Developmental Biology
RESEARCH INTERESTS

My interests reside in the genetic evolution of cancer development. Being a part of Dr. Mann's lab has awarded me the opportunity to investigate the mechanisms behind the development of cutaneous squamous cell carcinoma at its initial stages into the progressing stages. In addition to this, I've also had the opportunity to participate in a project investigating the evolving genetic landscape of treatment resistant melanoma, develop a novel mouse model for hepatocellular carcinoma of the kidney, as well as a project that attempting to locate possible drug targets for better treatment of cutaneous squamous cell carcinoma. I plan to start my PhD within the coming year in an attempt to cultivate my skill sets as well as broaden my intellectual capacity as a scientist.