Research Overview


A major interest in our lab is to determine how tyrosine phosphorylation regulates epigenetic processes that affect cellular homeostasis and cancer cell survival. We employ multiple tyrosine kinases to investigate these processes. The examples are:
ACK1/TNK2 : An oncogene with novel epigenentic activity  in prostate & breast cancers
WEE1 : A novel epigenetic modulator & its significance in various malignancies
ABL1 : A proto-oncogene with nuclear tyrosine kinase activity

Some of the major findings of our lab include:
We identified a novel AKT phosphorylation site, Tyrosine 176 that correlated with prostate, breast and pancreatic cancer progression to metastatic stages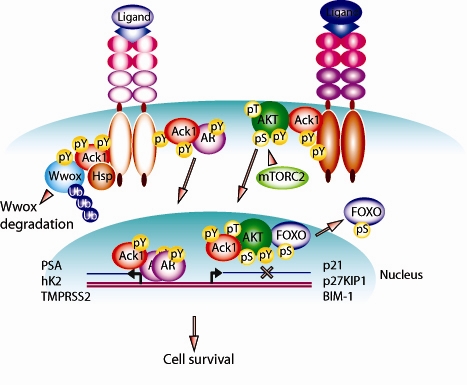 Mahajan K et al. J. Cell. Physiol. 224: 327-333, 2010.
Current Projects
ACK1 epigenetic signaling

ACK1/TNK2 knockout mice

Characterization of novel class of ACK1 inhibitors

WEE1 epigenetic signaling

Characterization of novel class of WEE1 small molecule inhibitors

Role of ACK1-AR signaling in triple negative breast cancer


Long non-coding RNAs as chromatin modifiers
Postdoctoral Opportunities
We are in recruitment drive and will hire up to 3 new postdocs. Send your CV to