EnderlingLab wins $50K pilot project award at the 2019 IMO workshop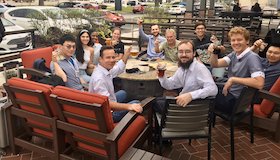 The 2019 Integrated Mathematical Oncology workshop was held in November on the topic "Evolutionary Tumor Board". The team, lead by Drs. Solmaz Sahebjam, Chris Whelan, and Heiko Enderling, developed an evolutionary trap and patient-specific intermittent therapy model to help personalize therapy for recurrent high-grade glioma patients. 
Congratulations #TeamBlue. 
EnderlingLab receives R21 to predict patient-specific prostate cancer treatment responses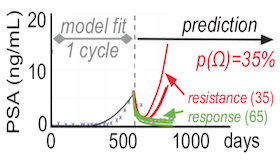 Intermittent androgen deprivation therapy (IADT) is a promising strategy to counteract evolution of resistance in prostate cancer patients. However, successful implementation of IADT requires identification of resistance mechanisms, prediction of responses, and determination of clinically actionable triggers of when to pause and when to resume IADT cycles. 
In this work we propose to develop a mathematical framework to explore the contribution of prostate cancer stem cell dynamics to evolving resistance, and to use these dynamics in computer simulations to reliably forecast the response in subsequent treatment cycles on a per patient basis.