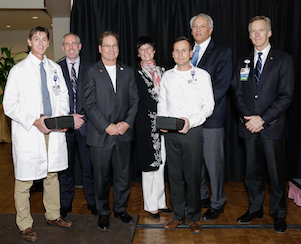 Dr. Heiko Enderling has received the 2016 Moffitt Research Educator of the Year Award.
His nomination letters span the gamut from department chairs and collaborating scientists to high school students. His educational activities parallel this range of "mentees" with rigorous scientific symposia and public speaking engagements to lay audiences. He founded and runs a summer camp for kids, known as the High School Internship Program for Integrated Mathematical Oncology, where exceptional high school students pair up with faculty investigators to develop math models. Dr. Enderling was recognized for taking a personal interest in trainees, speaking to parents and trainees before they come to the Moffitt Programs and frequently continuing to work with after completing the Program.  
He is the Director for Education and Outreach in Moffitt's Physical Sciences in Oncology Center, which trains the next generation of scientists in integrating mathematical and biological sciences to decipher Cancer as a Complex Adaptive System.